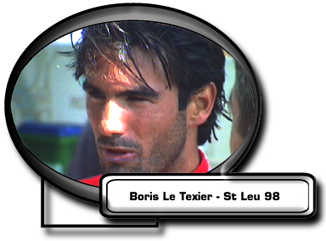 Boris Le Texier French surfer, 22 years old.
Very powerful surf heat, with a good choice of waves.
Very dedicated on every waves!

His goal this year is to enter the TOP44, and as he says, A lot of work!
Training and reflexion, movies of himself, analysis and much more.
The only solution to success.
A very clean program for a quiet guy.
Today, he is on quarter finals, we are waiting for him! Good luck man!
Boris Letexier, 22 ans, 1,83m - 77Kg
Hier, "Bobo" a fait le spectacle.
Excellent choix de vagues, superbe exploitation et, pas de doute, un grand plaisir à surfer. St Leu a vibré. En en plus, les résultats sont là. Le passage dans les 1/4, ce matin.
C'est pas un hasard. Boris le dit lui-même. Objectif : être dans les 10 premiers du WQS et, bien sur, rentrer dans le WCT. Pour cela, beaucoup de travail. Entraînement, mais aussi réflexion. Séquences vidéo, analyse des points faibles, remises en question. Et une motivation d'enfer.
Rendez vous dans la journée!
1997: - Victoire EPSA/EPSA Victory : Hossegor Rip Curl Séries.
- 2éme en Guadeloupe.
1995/96: Champion d'Europe/European Champion.
1992: Champion de France/French champion .
1991/92: Champion de France junior/French junior Champion.

Position des pieds/Stance : Goody foot
Vague préférée/Favorite wave : St Leu, Tahiti, Indonésie.
Planche préférée/Favorite Surfboard : par/by Mickey Rat.
Manoeuvres préférées/Favorite Maneouvre : Tube.
Surfer préféré/Favorite Surfer : Tom Curren (USA) - Taylor Knox.

Sponsors : Rip Curl, Oakley, Spyder/Mickey Rat Surfboards, Vans.